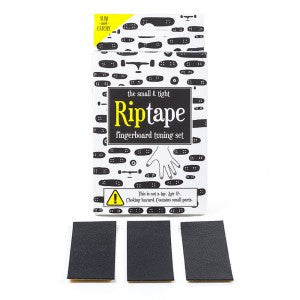 Riptape Tuning Set - UNCUT CATCHY
Regular price $10.50 Sale
Our Classic Riptape is no longer alone!  A new Riptape has been added to the product line: Riptape - Slim & Catchy!
While the Classic version is tough, the new version is a little softer!  It is personal choice whether you prefer the Classic or the new version!
Riptape - Slim & Catchy is only available 'Uncut' - perfect for all sizes of Fingerboards.

Package contains: 3 sheets of Riptape (Uncut & 38mm wide), a sticker sheet & instructions.